Music&Filmproducer, Songwriter, Photographer - simply artist - from Vienna / Austria. Musician ViennaCC - about his creative works, also for bands and musicians: production of music and video, photography, free downloads. Homepage: https://www.vienna.cc/kunst/
Popular Topics in this Blog:

Friday, March 6, 2020
Big Plans For Life - Große Lebenspläne #punchline #satire #pointe
Posted by

ViennaCC
at 8:07 AM
No comments:


The key reason why you might be compressing is really because you would like to limit the dynamic range on the vocal or instrument since it is too loud in song, too quiet in others. You wouldn't like the signal to sound obviously compressed.
I'll assume that you will be using an up to date compressor having a full set of controls. Some vintage and vintage-modeled compressors will not have every one of the controls of an up to date unit or plug-in. There's nothing wrong with this on the right occasion, but also for the full compression experience having every one of the relevant controls is best.
You'll want to set one other controls to commonly-useful values, including these...
Ratio: 3:1
Release: 1 second
Gain make-up: Whatever brings the compressed signal as much as the exact same subjective level as if your compressor is switched out
Threshold: Enough to go to a reading of 6 dB or so forth the gain reduction meter.
Knee, if you have one: Halfway on the dial
Posted by

ViennaCC
at 2:30 AM
No comments:


Wow! Good old C64 is still alive
ViennaCC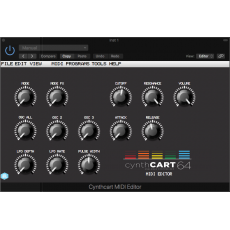 Cynthcart is a popular cartridge for the Commodore 64 that turns the old computer into a synthesizer, using the onboard SID chip(s).
With Cynthcart and a MIDI interface you can hook the Commodore to your Mac or PC and/or play it from an external MIDI keyboard.
This MIDI Editor allows to easily edit and automate most of the synth parameters using MIDI-CC commands, such as Cutoff and Resonance of the filter, Attack and Release of the Oscillators, LFO rate and Depth as well as PWM and other parameters.
Cynthcart MIDI Controller is available for both Mac and PC, as a VST/AU plugin or as a Standalone app.
#Musicproduction: Autodafe releases free Cynthcart MIDI Editor #freedownload
Posted by

ViennaCC
at 1:00 AM
No comments: