Music&Filmproducer, Songwriter, Photographer - simply artist - from Vienna / Austria. Musician ViennaCC - about his creative works, also for bands and musicians: production of music and video, photography, free downloads. Homepage: https://www.vienna.cc/kunst/
Popular Topics in this Blog:

Monday, November 6, 2017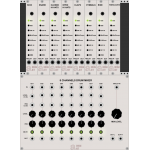 Autodafe Drum Kit for VCV Rack: FREE: a Collection of 8 modules with sampled drums and a 8-channels Drum Mixer
#Musicproduction: Autodafe releases Drum Kit and updates Module Pack for VCV Rack #freedownload
Posted by

ViennaCC
at 5:53 PM
No comments:


I daily eat salmon. Of course with certificate "from animal welfare farming", another cerificate that it voluntarily bitten into, and a consent to postmortal kippering.
Interesting link:
Insider Dossier ;-)
---
Esse täglich Lachs. Natürlich mit Zertifikat "aus natürlicher Tierhaltung", einem Siegel, dass er freiwillig angebissen hat, und einer Einverständniserklärung zu postmortalem Räuchern.
Interessanter Link:
Pressebericht ;-)
Posted by

ViennaCC
at 3:30 PM
No comments:


Drift is a multi-effects processor based on two independent Lorenz chaos oscillators. These systems are used by scientists to model convection in liquids and gases: they produce chaotically fluctuating, never-repeating signals that are mutually correlated. Drift uses one Lorenz oscillator to apply two-dimensional modulation onto an effect unit with filters, phasers and phasers – and another such oscillator is applied onto output level and stereo pan. With this, Drift is able to give any sound the dynamic characteristics of wind gusts, air turbulence, ocean waves or water bubbles
#Musicproduction: Sinevibes announces High Sierra compatibility and makes Drift a #freedownload
Posted by

ViennaCC
at 6:00 AM
No comments: