Music&Filmproducer, Songwriter, Photographer - simply artist - from Vienna / Austria. Musician ViennaCC - about his creative works, also for bands and musicians: production of music and video, photography, free downloads. Homepage: https://www.vienna.cc/kunst/
Popular Topics in this Blog:

Friday, January 3, 2020
What Came From America (to Europe) - Was aus Amerika kam (nach Europa) #punchline #satire #pointe
Posted by

ViennaCC
at 10:09 PM
No comments:


So, you would imagine you are going to make use of a music manager. But, are you aware how to locate a music manager? This is virtually a trick question. Rather than finding a supervisor, you'll want to attract a manager. Through effort and growth, you'll begin to gain attention. This will likely attract prospective music managers looking to use you. See how to attract a music manager in an effort to enhance career.
Posted by

ViennaCC
at 12:00 PM
No comments: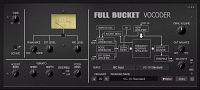 Full Bucket Music has released the Full Bucket Vocoder FBVC version 1.0.0 for Windows (VST) and MacOS (VST/AU).
#Musicproduction: Full Bucket Music releases Full Bucket Vocoder FBVC for Mac & Win VST & AU #freedownload
Posted by

ViennaCC
at 1:00 AM
No comments: