Music&Filmproducer, Songwriter, Photographer - simply artist - from Vienna / Austria. Musician ViennaCC - about his creative works, also for bands and musicians: production of music and video, photography, free downloads. Homepage: https://www.vienna.cc/kunst/
Popular Topics in this Blog:

Sunday, February 25, 2018
#Musicproduction: Soundhack Delay Kit updated to v9.11 #freedownload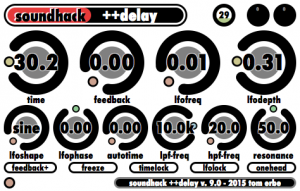 Version 9.11 of the free Soundhack Delay Kit (Delay Bundle) is now available for macOS and Windows.
#Musicproduction: Soundhack Delay Kit updated to v9.11 #freedownload
Posted by

ViennaCC
at 3:19 AM