Christmas Gift - Happy Christmas 2016 !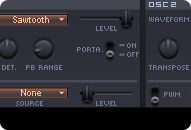 Sanford Sound Design has announced that Cobalt is now freeware (it cost $35 when it was available).
Cobalt is a VSTi software synthesizer for Windows inspired by many of the digital synthesizers from the 1980s.
In the early 80s as digital technology became cheaper, many manufacturers designed synthesizers that combined earlier analog technology with newer digital technology. These were known as hybrid synthesizers. Well-known hybrid synthesizers are the Korg DW8000 and DW6000, the Ensoniq ESQ-1, and the Kawai K3.
#Musicproduction: Sanford Sound Design re-releases Cobalt Hybrid Synth for free (Windows VSTi) #freedownload